Employee Electronic Record
The Employee Electronic Record consolidates all the information from across all Interact SSAS modules in one single location, the Employee Electronic Record.  This multi-tab form provides the user with an immediate view of all critical summary information from all angles and all aspects related to social security on one particular Individual.
If a user still needs further details after reviewing the summary information, they can view this by drilling down into the underlying transactions which generated the information itself or by running the applicable reports.
The following tabs are included in the Employee Electronic Record:
Figure 1: Employee Electronic Record – General
The General Tab, covers the Employee's Demographic Details such as Name, Mother's Name, Address and Contact Information, various Social Security Numbers and Identification Numbers as well as a summary History of Contributions Details related data and attachments of supporting Documents.
Dependents

Figure 2: Employee Electronic Record – Dependents
Since Dependent Information is critical information to capture and maintain in regards to social security matters, the next most important Tab in the Employee Electronic Record form is the Tab for Dependents.  In this tab a summary is provided and the user can click on the record to drill down further and see more information.  At the summary level, the following information is provided:
Dependent Social Security Number
Dependent Name
Dependent Date of Birth
Dependent Place of Birth
Dependent Age
Dependent Gender
Dependent Type
Living Situation
Spouses

Figure 3: Employee Electronic Record – Spouses
Current and Former Spouse information is available separately since a Spouse relationship may have other implications in a social security context.  The system provides the following information:
Spouse Social Security Number
Spouse Name
Spouse Date of Birth
Spouse Place of Birth
Spouse Age
Spouse Gender
Spouse Nationality
Spouse Type
Marriage Date
Marriage Type
Marital Status
As mentioned above, if the user needs to see further details, they can click on the record and obtain the additional information associated with this record as shown below: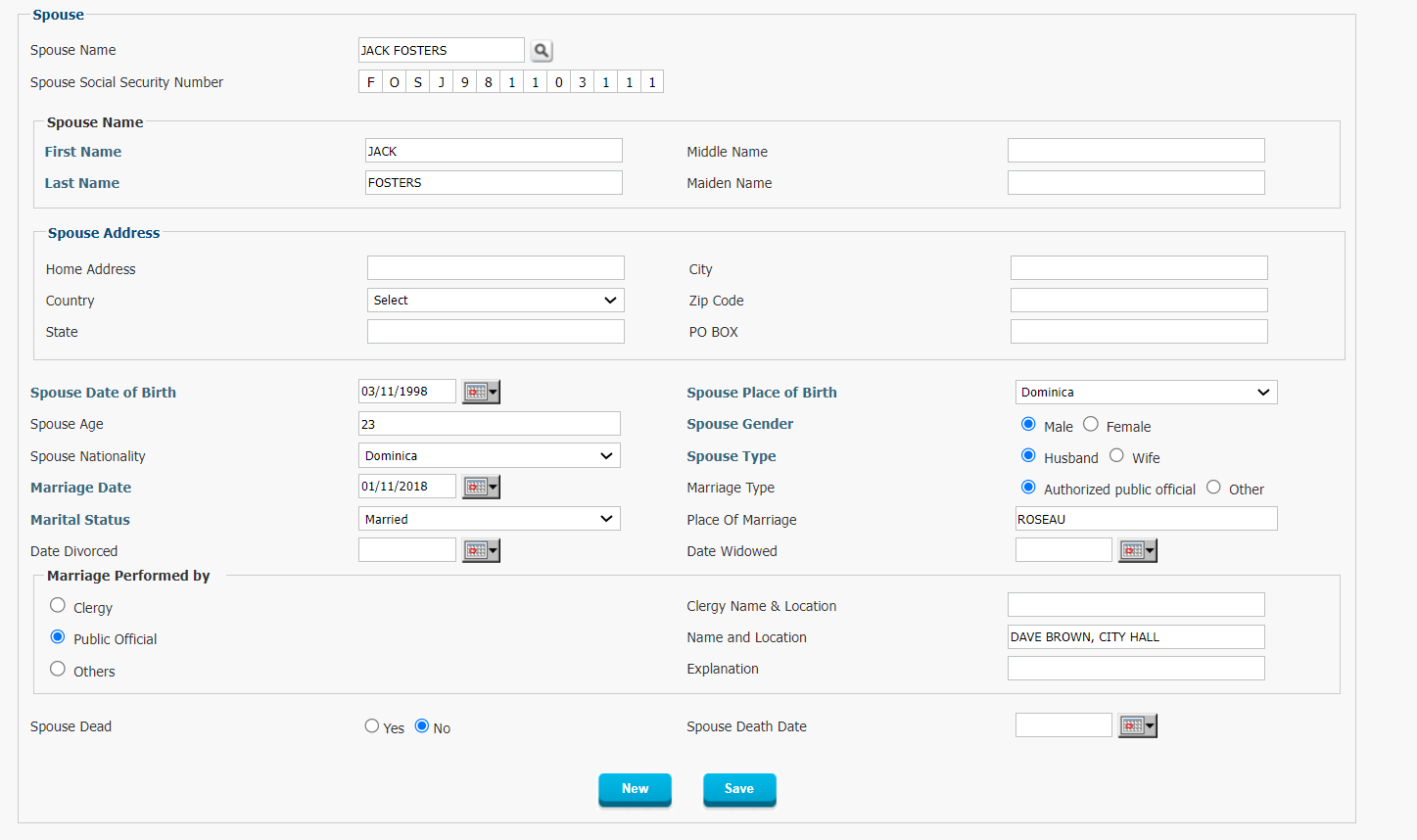 Figure 4: Detail on Spouse
Addresses

Figure 5: Employee Electronic Record – Addresses
An individual may have many addresses over a life-time and for various reasons a Social Security Administration may need to have the history of these Addresses available for consultation during investigations.  Therefore, the address information is readily available in the Employee Electronic Record.
You can find the following information by column:
Address Date
Home Address
City
State
Zip Code
PO BOX
Mailing Address
Mailing City
Mailing State
Mailing Zip Code
Mailing PO BOX
Status (Current/Old)
 Employment History

Figure 6: Employee Electronic Record – Employment History
The data regarding Employment History of an Employee is updated automatically by the system, depending on the transactions processed in the system (i.e. Application to Register as Employee or an ESSRN filing by an Employer, etc.).  The Employment History will show the following data:
Employer
Job
Employment Start Date
Employment End Date
Hourly Wage
Weekly Earning
Biweekly Earning
Monthly Earning
Quarterly Earning
Annual Earning
Employee Group
Pay Cycle
Total Social Security Contribution
Status
Job Status
Tenure From
Tenure To
Annual Insurable Earnings
Contributions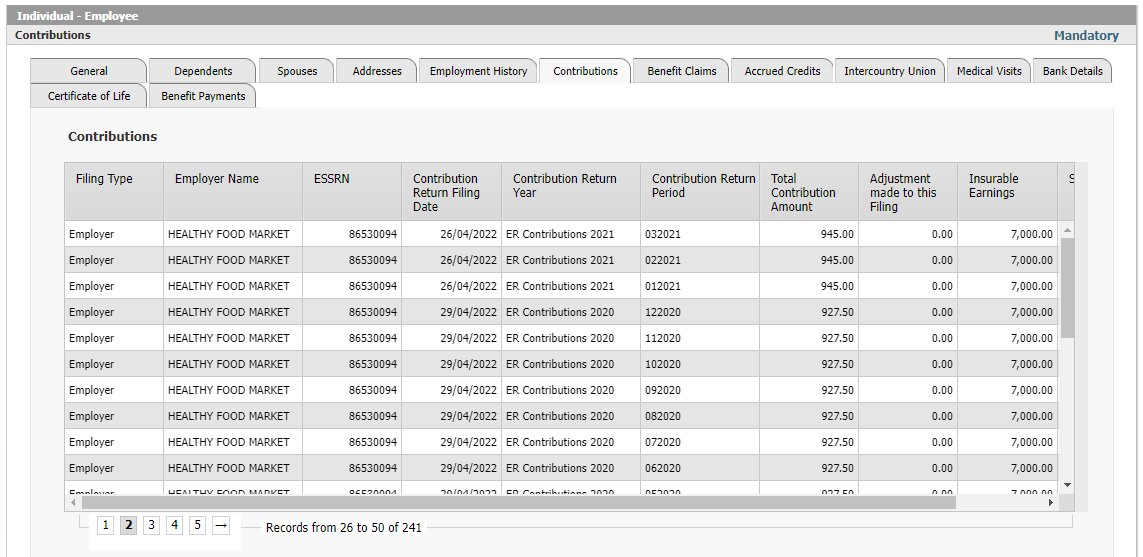 Figure 7: Employee Electronic Record – Contributions
The Contributions Tab will show all relevant information regarding Contributions made by or on behalf of an Employee.  All of the information will automatically flow from the Contributions Filing and Payment Management module in Interact SSAS.  The following information will be displayed:
Filing Type
Employer Name
ESSRN of the Employer
Contribution Return Filing Date
Contribution Return Period
Total Contribution Amount
Adjustment Made to the Filing
Insurable Earnings
Status
Benefit Claims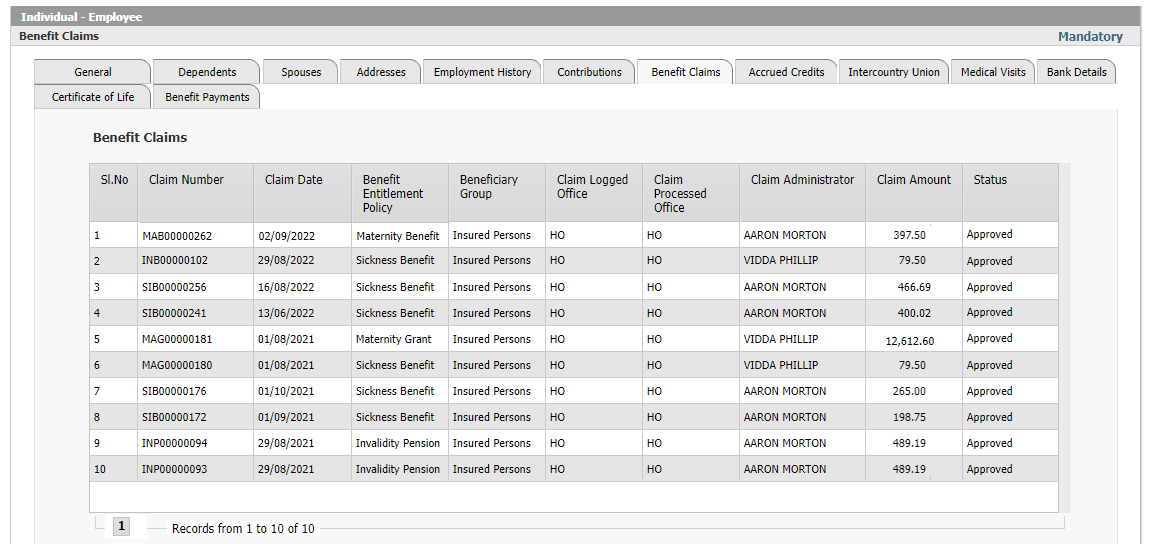 Figure 8: Employee Electronic Record – Benefit Claims
Benefit Claims which have been filed through the Employee's e-Services (or were filed manually and entered by a user at the Social Security Administration), can be seen in a summary overview under the Employee's Electronic Record so that the user has immediate access and insight into the summary.  If further detail is required they can drill-down and view the underlying claim transaction.
The Benefit Claims tab shows the following information:
Serial Number
Claim number
Claim Date
Benefit Entitlement Policy
Beneficiary Group
Claim Logged Office
Claim Processed Office
Claim Administrator
Claim Amount
Claim Status
Accrued Credits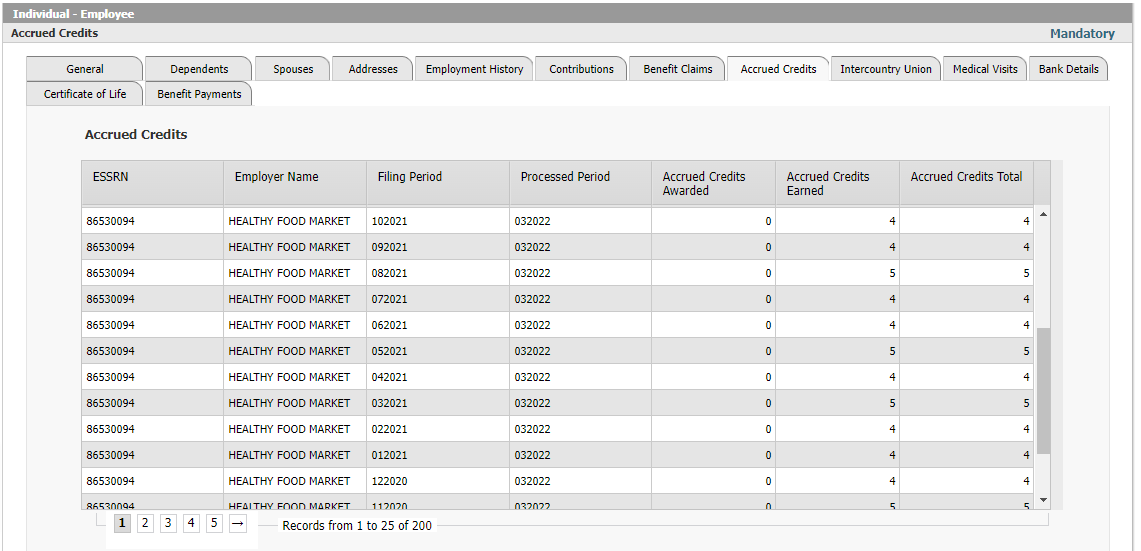 Figure 9: Employee Electronic Record – Accrued Credits
The Accrued Credits which are earned as a result of contributions paid into the social security system, will be shown in various reports but are also visible immediately on the Employee's Electronic Record for any user who needs to be able to access this information.
This form shows the following details regarding Accrued Credits:
ESSRN of the Employer
Employer Name
Filing Period
Processed Period
Accrued Credits Awarded
Accrued Credits Earned
Accrued Credits Total
Medical Visits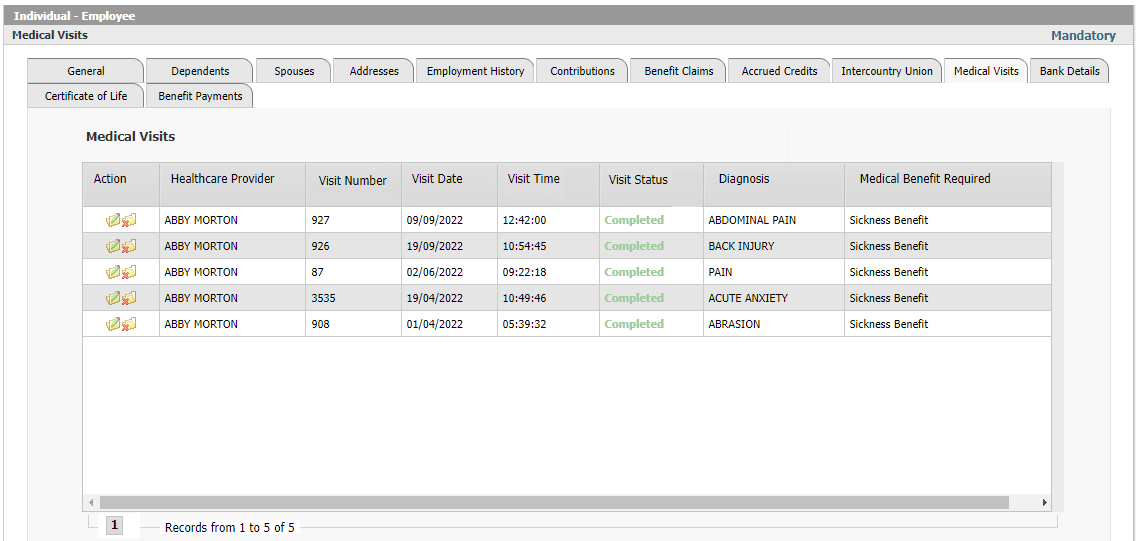 Figure 10: Employee Electronic Record – Medical Visits
Details on Medical Visits are captured in the system in order to justify various Medical Benefits, including Sickness Benefits, Maternity Benefits, Invalidity and/or Disability Benefits.  For this reason, the diagnosis reported by a Healthcare Provider will be transmitted directly from the doctor to the Social Security Administration.  If required, the information can be available on the Employee Electronic Record online with access to more detailed reporting for authorized users.
The summary view includes:
Healthcare Provider
Visit Number
Visit Date
Visit Time
Visit Status
Diagnosis
Medical Benefit Required
Bank Details

Figure 11: Employee Electronic Record – Bank Details
This tab will display the Bank Accounts on record for the Employee, showing both Active and Inactive ones.  The system lists the following columns:
Bank Name
Branch Name
Account Number
Account Name
Account Status
Certificate of Life

Figure 12: Employee Electronic Record – Certificate of Life
Certificates of Life are required for Pensioners to continue receiving their Pension.  The system therefore keeps track of exactly which Certificate has been filed when and how it was verified.  The details shown in the summary include the following:
Type
Pension Type
Claim Number
Not Later Than Month & Date
Not Later Than Year
Request Date
Status

Benefit Payments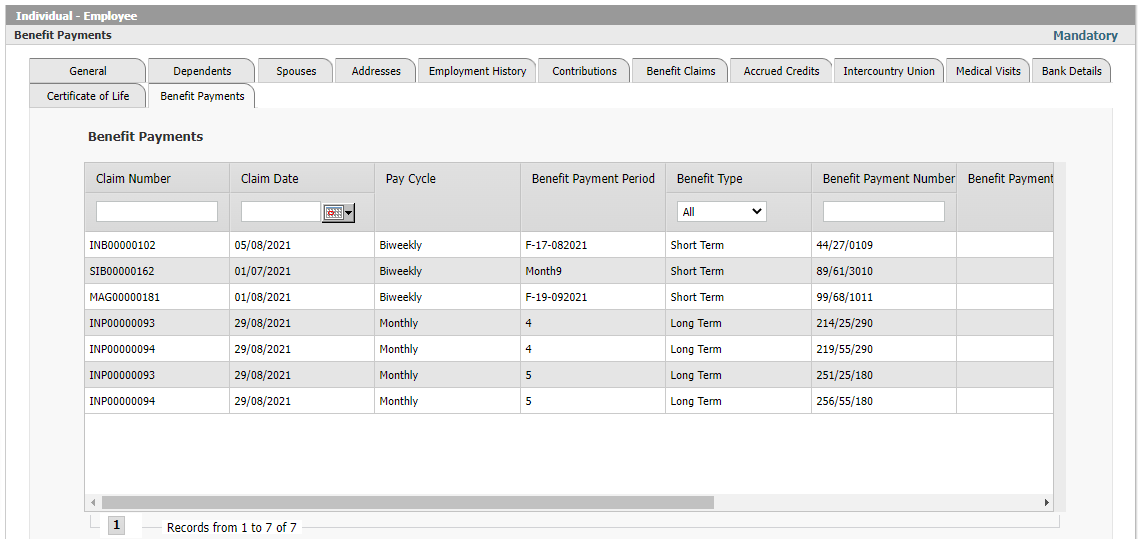 Figure 13: Employee Electronic Record – Benefit Payments
Any Benefit Payments processed in the system will automatically be displayed in the Employee Electronic Record for easy reference of the user.  The Benefit Payment details shown in the summary include the following:
Claim Number
Claim Date
Pay Cycle
Benefit Payment Period
Benefit Type
Benefit Payment Number
Benefit Payment Amount
Benefit Payment Method
Bank
Account Number
Social Security Number Change History

Figure 14: Social Security Number Change History
The final tab in the Employee Electronic Record covers the Social Security Number Change History.  This particular tab will show any changes which occurred to an individual's Social Security Number and the records for it so that a user within the Social Security Administration who needs to quickly verify a related matter can view the summary in an instant.
The system displays the following information:
SSNA Number
Social Security Number
Issued By
Issued Date
Reason for Changing SSN
Approval Status
Issuance Status