Overview
Interact SSAS Receivables Management is used to manage receivables for payments that are not related to the regular Social Security Contribution Payments made by Employers, Self-Employed and Voluntary Contributors.
These separate Receivables cover items such as Student Loans Payments, Refunds of Overpaid Benefits, Social Security ID Card Replacement Fees, etc.
The module is integrated with the Cashier and Payment Management Module.
The basis for this module is an "Invoice", which defines the service or item to be paid for and when the payment is due. Once the Invoice is raised for a specific service or item to a specific customer, then the customer needs to pay the amount stated on the invoice. The invoice can be a one-time payment invoice, or a recurring payment invoice. Once the invoice is raised and posted, then the user, using the Cashier and Payment Management, will be able to see the invoice and receive the payment against the invoice.
Invoices for specific services and customers can be created any time.
Some of the payments that will be covered through invoicing include:
Payment of legal fees
Payment of late fees
Payment of arrears (arrears are paid separate and apart from regular contributions as part of debt agreements)
Payment of statutory interest
Payment of student loans
Payment of redundancy benefit debts
Payment of staff advances
Payment of replacement for registration card
Payment of investment dividends from investments
Refund of Overpaid Benefits
Definition
Customer
A Customer defined in an invoice can be:
An Individual who owes money to the Social Security Administration, or
an Employer who Filed Social Security Contributions, and owes payment to the Social Security as a result of Filing Contributions.
Invoice
An Invoice is used to record an IOU by an individual or employer for a commitment to be paid to the social security administration. For an Individual, the invoice is for payment commitments that are non- social security contribution commitments, while for Employers, the invoice is the result of Contributions Filing. The invoice for Contribution Filing is not required but can be used if so desired.
Invoice Item
The Invoice Item is used to define the purpose of the invoice as an example, Student Loan. The Invoice Item can be converted to a Payment Type, and displayed as Payment Type in the Payment form. An invoice item can be linked to a Contribution Filing item.
Framework
The Receivables Management Frame is based on Invoicing a Customer for a specific Service or Item. A Customer can be an Individual or an Employer.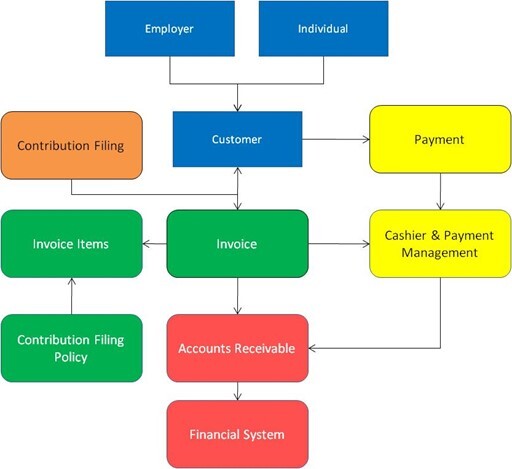 Receivables Management is primarily used for Payments that are outside the Social Security Contribution payments. However, if it is linked to the Contribution Filing, the system will automatically create an invoice for each Contribution Filing.
An invoice can have multiple payments.
Cancelling of Invoices can be used to Cancel an existing invoice. Note that an Invoice that is partially paid cannot be canceled. Includes